THE 2019 VILLAGE SHOW
In spite of unpromising weather the 2019 Show, held on 10 August, was very well supported both in the Exhibition Tent and the Sports Field.  The Committee are pleased to thank everyone who helped in any way.
Do visit the 2019 Press Release and the 2019 Show results for more details.
WE HAVE NOW DECIDED THAT WE CANNOT HOLD ANY  FORMAT OF SHOW IN 2020 DUE TO THE COVID-19 LOCKDOWN.  WE COULD SIMPLY NOT MAINTAIN SOCIAL DISTANCING.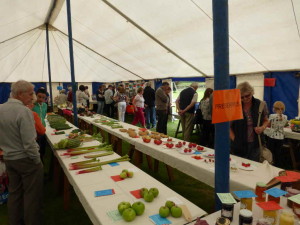 The 2020 Show was due to be held on 8 August, but after 13 years of hard work Maureen Hague has now stepped down as our Show Secretary.
We need to appoint a replacement (or two?) to keep the Show alive and relevant to the village residents and their families.  More details in this ad:  Show Secretary
Thank you.