THE VILLAGE SHOW
Since the 1950s the Hall Committee has run a Village Show and Children's Sports Day every August.  In recent years this took place on the Show Field at the top of the village just next to the Methodist Church.  We hired a large marquee for all the Show entries, including children's classes, jams, cakes, handicrafts, photographs, fruit and veg, etc.  The traditional children's races covered wheelbarrow races, sack races, 3-legged races, and bike races as well as running.  All this could only happen because of our supporters and volunteers in and around the parish, coordinated for many years by our hard-working Show Secretaries Claire Binns and then Maureen Hague.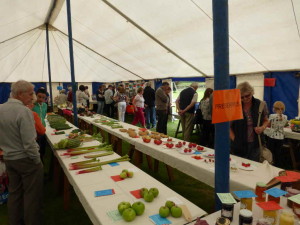 No Shows were held in 2020 or 2021 because of COVID.  The Committee has reluctantly decided that, with hardly any children now living in the village, and with a smaller and ageing pool of willing volunteers, we  need to scale our efforts down in 2022.
THIS YEAR'S SHOW WILL TAKE PLACE ON SATURDAY 13 AUGUST 2022 AT THE HALL, NOT ON THE SHOW FIELD.  THERE WILL A RANGE OF ADULT AND CHILDREN'S DISPLAY CLASSES, AND THE USUAL REFRESHMENTS,  BUT NO CHILDREN'S FANCY DRESS OR SPORTS.
THERE WILL A SCARECROW TRAIL ROUND THE VILLAGE ON THE SAME DAY.   LOOK OUT FOR MORE DETAILS NEARER THE TIME.
A separate Show Committee has been established to run this event, kindly chaired by Bob Baker.  If you wish to help in any way, please contact him on 776786 or bob.baker@bellingram.co.uk